SIKA Clogs - Nursing Shoes, Chefs Shoes and Slip Resistant Footwear
Chef Clogs, Medical Clogs, Nursing Clogs -

SIKA Footwear
SIKA Footwear - more than 100 years providing Nurses Clogs, Chef Clogs and more. Producing Clogs in Denmark since 1870.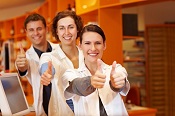 Superior Craftsmanship, Comfortable Design and Sturdy Construction
Today, SIKA Footwear, a danish producer, supplies several countries around the world including USA. This modern and innovative company is 100% dedicated to develop products that meet future demands for occupational footwear. With their dedication and large investments into this field, SIKA brings the perfect combination of safety, durability and comfort clogs and footwear for long-term wear by all its customers.
We offer a wide range of clogs including industrial shoes, traditional clogs, wood clogs, leather clogs, flexible clogs and steel toe clogs and clogs with built in arch support for added comfort. All of our clogs are leather clogs and they are all slip resistant clogs and highly durable.

Through continuous communication with leading international testing and research institutes regarding occupational clog footwear safety and reliability, SIKA has assumed a leading role in establishing and maintaining strict quality standards.

SIKA clogs cater to nurses, doctors, chefs, kitchens, and the clogs can be worn for many other activities. Sika clogs provides a comfortable experience and the knowledge you have purchased shoes that are well-designed, solidly manufactured and extremely durable.


SIKA Footwear supplies clogs to the following industries:
Food Services
Construction
Metal Trades and Fabricating
Cleaning & Maintenance
Hospitals
Agriculture
Pharmaceutical Industry
Laboratories
Transportation
Restaurant/Hospitality
Service/Sales/Professionals

Casinos
We only accept products that deliver on performance. Sika clogs are also certified in accordance with European norms. We hope you will enjoy wearing your Sika shoes.
Wholesale Inquiries Welcome

SIKA Footwear is a Division of Greenhouse Style Corporation